January 9, 2012 in Uncategorized
" Einsteins relativity work is a magnificent mathematical garb which fascinates, dazzles and makes people blind to the underlying errors. The theory is like a beggar clothed in purple whom ignorant people take for a king… its exponents are brilliant men but they are metaphysicists rather than scientists." - Nikola Tesla — New York Times (11 July 1935), p. 23, c.8
ALL SOURCES LINKED:
A few years ago, I met two mechanics that promised me that they could build a renewable energy system using Magnets. I had heard about Tesla's theory, which was still very much in the conspiracy section of my mind.
Today I received this video, showing an Argentinean creating perpetual energy using magnets. So I quickly started researching because these subjects are always fascinating. A PHD in Mathematics had warned me  not to believe any of these ideas, and a close friend repeated the warning this morning. But by then I couldn't stop. Renewable Energy is supposed to be unmarketable, since it does not need high cost resources to produce it. Or so they say… right?
All I could find were sites which were clearly selling scams, on Youtube as well as all over Google. Wait a minute! When information is being suppressed, I usually find out that there is a black hole on the web about it. Here there seemed to be quite the opposite; an over surge of disinformation. I couldn't find one credible source to prove or disprove these ideas. Sort of like with Ron Paul. So I had to research for myself:
The first thing I found, was that Scientists across the board believe that Tesla's idea is impossible. But wait a minute… if it were truly impossible, wouldn't it be easy to find a record about/for it? Critics say that Tesla was kicked out of the Austrian Polytechnic in Graz. Many have criticized him for becoming a sinister man during that short period, gambling and refusing to go back to school. Funny, I have been blocked for 3 years in first and second year English in France, studying as a Bilingual French/English native speaker since birth. I achieved my High School Diploma at 16 (500ft. away from $10,000 a year Punahou School where Obama was getting A's for his skin color). If I had listened to a  bunch of teachers who thought I should have repeated my 9th Grade Public School Year, taught by illiterate pidgeon speaking teachers/George Bush supporters who spoke terrible English (when I was already reading Baudelaire/Abbie Hoffman/Chateaubriand/Charles Dicken's more difficult works, such as Hard Times; and being homeschooled at the same time by my two parents who are both P.H.Ds), oh where would I be today? If I had listened to these imbeciles, I would probably be slaving in a Japanese owned Hawaiian 5 star Hotel for pennies, instead of writing this; and be insulted as white trash/howlee daily. So in France the same thing happened. I admit I am an anarchistic autodidact, but I was being told by Lecturers who had been speaking English less time than I, that I was not fit to pass 1st and 2nd Year English (for French Speaking Natives who had barely ever uttered one grammatically complete sentence in the English Language, until they found themselves in their 1st year of College). Give me a break, I just wanted an equivalence (proving I was Bilingual), I wasn't trying to take down the French Socialist version of University (which actually already has a reputation of creating some of the worst English speakers this World has ever known). Or at least that is what my professors seemed to be thinking. I was probably guilty on a few occasions of sloth, and repetitiously wanting to abandon my studies, in view of such constant and unproductive criticism. If you block someone for something that they cannot change like their skin color or a hard felt ideology, it is obvious they will constantly fail at your games, and be ostracized. Society has deemed me all types of paranoid names. So I consider it a privilege to share History with some of the most intelligent people of the World. Einstein was kicked out of school as well, except he begged to be reaccepted. Tesla and I did not.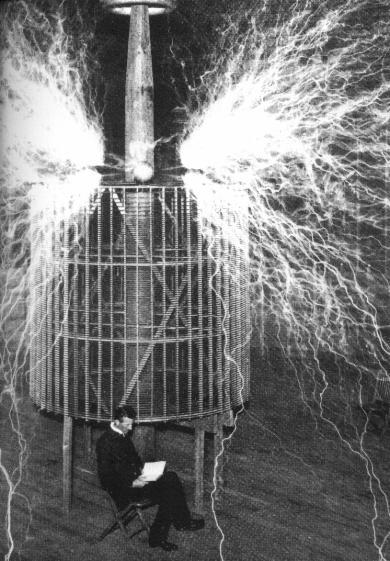 There is also the example of the many wonderful ideas of Jacque Fresco. Maybe Geothermal Electricity is a little advanced and dangerous, but probably way  less than let's say nuclear? I will not argue the past of either these men, any longer; but will talk about what I have learned researching this issue myself. All the rest can be easily found on the Internet. I as well do not receive funds for my inventions therefore am under the same restraints for time!
In 1829, a patent was made  for the Magnetic Pendulum, which was very close  to what Tesla said he had imagined; but for the life of me can find that information anywhere. Therefore I deem this information inaccessible, just like the current riots in Nigeria. Blame the Nigerians for not having enough people on the Internet; or blame our criminal News "Organizations" such as Reuters, AP, CNN, etc… who rarely make these issues very accessible to the rest of the thinking world.
There is also another similar Tesla invention which was ignored and suppressed for nearly a Century, that is: the transfer of electric current using electro-magnetic pulses. This when it was created made headlines.  Back a Century, Tesla's ideas were competing with the already very rich Thomas Edison, and his Electric Installation Company, which is still a Multi Billion Dollar Company today.
So although this is all very debatable, there is something interesting we must take closer observance of, and that is the Magnetic Pendulum. Say Tesla was unable to improve that Pendulum. Can we not increase the amount of energy we currently generate implementing these sorts of devices?  Motion makes Electrical Energy when it is powered by the wind, such as with modern windmills. Imagine giant Magnetic Pendulums hooked up to alternators, is that really such a crazy idea? If not, maybe Tesla was on to something. Tesla continues to influence the scientific World. He strongly disagreed with some of Einstein's theories, such as the Theory of Relativity, which is another thing Tesla shares in common with Jacque Fresco, whose ideas are good enough for a U.N Project (as was this idea not used yet very marketable).
So even though there is a scam today revolving around this issue, and I urge you not to buy any of these fake products, let us not forget that the US Government and its Wealthy Corporations have been doing this for years. Why do you think so few people trust the Internet? Is it really because  humans make the World a scary place? Or is there a constant monetary gain from causing chaos wherever it is needed by the CIA and its Corporate Friends? Not to mention the World Bank's debt slavery programs which were enforced all over Latin America, Asia, the Middle East and Africa (currently on Greece, France, UK, Germany, etc…). There have always been Economic Hitmen/hired terrorists/corrupt leaders and their hitmen, and they were always considered criminal. Poverty has always created wealth, and chaos is definitely a good source for poverty, as well as lack of energy! Energy is one of the many things people of the developed World take for granted, as well as for profit.
"Let the future tell the truth and evaluate each one according to his work and accomplishments. The present is theirs; the future, for which I really worked, is mine." – Nikola Tesla